Park n' Rest at Native Pride
Traveling can be hard when deciding when and where to stop but we can make it easy for you! All in one stop you can fill up your tank with the best priced fuel, and fill up your belly with the best tasting food.
For those longs hours on the road when you need a break, there is space for you to park'n'rest whether you are driving a car or a semi-truck. Find us on the "Park My Truck" App to see how many spaces we have available at all times!
We have clean restrooms, an area for your pets and clean shower facilities that are available to use at anytime. Enjoy a break and stop by the Driver/Cigar TV Lounge, while you are there take advantage of our free wi-fi available anywhere at our location. The convenience store is open 24/7 and has everything you need to refresh for professional drivers and local automobile travelers. Stop at the diner for a hot meal and great daily specials with fast and friendly service.
Transflo Express now available!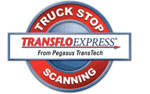 Have a question? Send us a message