Hi Flow Diesel Fuel Pumps
Encore 700 Ultra Hi Flow Diesel Fuel Pumps
The Encore 700's Ultra Hi Flow pumps are the newest and best diesel fuel pumps out on the market. These new pumps allow a driver to use credit cards or their company cards at the pump to purchase fuel. This allows a driver to fuel, get a receipt and get back on the road faster than ever before! Drivers can also use the extra time to come inside and browse our store or get a great meal in the Native Pride Diner!
Our new diesel island, new fuel pumps and fuel products that are available to our diesel customers make Native Pride the place a trucker or anyone in need of diesel fuel the place to stop.
Gilbarco - A Trusted Name in Fuel Dispensing
Gilbarco is one of the most trusted names in the fuel dispenser industry and has been manufacturing the industry's best convenience store equipment since 1865. With the most flexible choices in fueling equipment configurations, as well as an excellent POS system, the Encore Ultra–Hi flow is powered by top–of–the–line features to give drivers the ultimate fueling experience.
With incredibly fast flow rates, Gilbarco Veeder-Root's Hi flow masters and satellites for retail truck stops are made to last and reduce the amount of time it takes to pump and pay.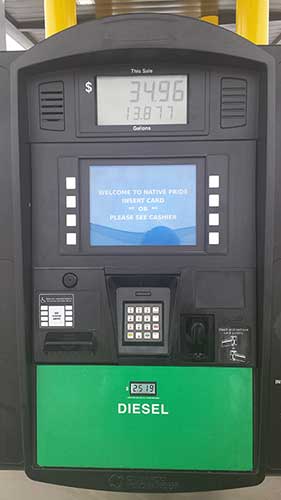 Have a question? Send us a message